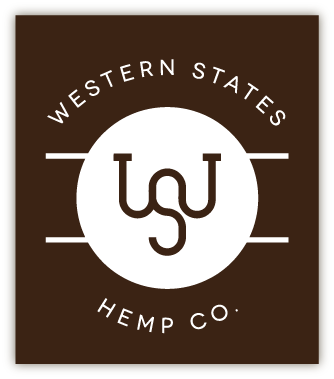 FOR IMMEDIATE RELEASE (May 8, 2020): Western States Hemp is a 100-acre hemp farm in Fallon, Nevada. The business was started by farmers and ranchers, Joseph Frey and Adrienne Snow, who pivoted their crops in 2016 when realizing the potential and benefits of the cannabis industry. Because of their expertise and ease of scale, Western States Hemp has become Nevada's leading producer of industrial hemp.
Western States Hemp offers products directly to consumers through e-commerce sales including CBD pre-rolls, hemp tea, multiple high-quality strains of CBD flower, CBD isolate, and CBD relief balm. Alternatively, Western States provides wholesale opportunities for distributors and product manufacturers that require large quantities of hemp flower, fiber and biomass, CBD isolate, hemp seeds, and cloning genetics.
The benefits of working with Western States Hemp is its capability to grow high-grade hemp strains in large quantities specifically for a customer. For example, they are able to provide a dispensary with a proprietary strain of CBD, or a hemp plastic manufacturer with large quantities of hemp stalks, a part of the plant that is typically unused and thrown away.
Furthermore, Western States Hemp is able to offer hemp manufacturing capabilities including drying, hammer milling, and fiber processing using machinery on site. They are currently waiting on the first decortication unit in Nevada which will allow them to separate hemp stalks (hurd and bast) and prepare them for companies to make paper, plastic, and fabric among other products.
With more companies moving manufacturing back to the U.S from countries like China, Nevada has the chance to be at the forefront of new technologies in the cannabis industry. Adrienne Snow, founder at Western States Hemp, is looking forward to the farm's manufacturing capabilities, saying,
"Putting our hemp into products like clothing and packaging is really exciting. To be part of developing a new industry that will create jobs and revenue streams, all while keeping sustainability and biodegradation as primary targets is an incredible opportunity. Being industrial innovators and agricultural stewards is something we're both good at and proud of."
Northern Nevada is an ideal location for growing hemp with an endless amount of sun and swaths of open, and fertile soil. Western States Hemp takes advantage of conditions by planting most of their crop outdoors but cultivates mother hemp plants in various hoop grow houses on the farm's property.
Western States Hemp works with large and small companies from dispensaries to plastic manufacturers. The beauty of their operations is their capacity to work with businesses with whatever their hemp needs.
---
775.247.6458  |  WesternStatesHemp.com